1win Best Sportsbook in Canada
1win is an international sportsbook available in Canada. This brand was first established in 2018 and has since become a world-class, international sportsbook thanks to its Curaçao license. This site caters to everyone, whether you're only interested in gambling on your favorite sports team, or you're a serious bettor wanting to make some money.
In this review, we'll cover everything you need to know about 1win sportsbook and casino, from available games and betting markets, to account creation, making deposits and withdrawals, customer service, and more.
Overview of 1win
| | |
| --- | --- |
| Owner | 1win N.V. |
| License | Curaçao – license number 8048. /YAAZ2018- 040 _ |
| Accepts Canadian players? | Yes |
| App available? | Yes |
| Sportsbook established | 2018 |
| Sportsbook bonuses and promotions? | Yes |
| Casino? | Yes |
| Business address | 3 Chytron Street, Flat/Office 301, P.C. 1075 Nicosia, Cyprus |
| Live chat? | Yes. Available 24/7 |
| Email address | [email protected] |
| Currencies | Canadian Dollar, US Dollar, Euro, Ruble, Australian Dollar, Polish Zloty, Brazilian Real, Central Africa Franc, Kyrgyzstan Som, Turkish Lira, Kazakhstan Tenge, Ukrainian Hryvnia. |
1win Actual Sports Bonuses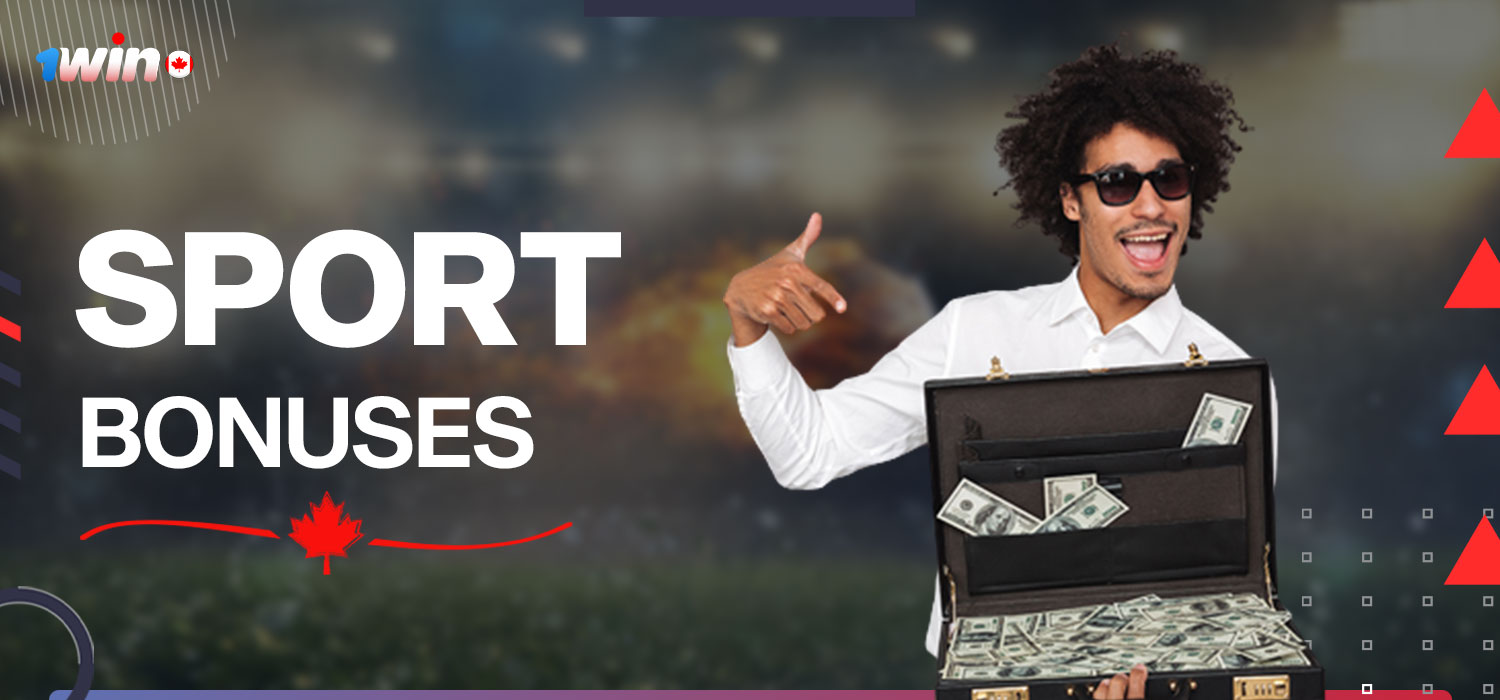 The 1win sportsbook has some great bonuses for betting on sports. The available bonuses include:
A welcome bonus
A 30% cashback bonus
Bonus on an express bet
Let's look at these in more detail:
The 1win sports welcome bonus
All new sportsbook players can access a 500% bonus when they first sign up to the site.
To do this, they need to go to the official 1win sports book page, register, and make a deposit.
In order to receive the bonus, you need to make a deposit. Here are the steps to do that:
Make sure you're logged into your account and have used the promo code '1CABONUS' on sign up. If you haven't registered, we've mentioned the sign-up procedure below.
Go to your account and click on 'deposit'.
Enter your payment details and amount, then verify your transaction.
The funds should appear in your account instantaneously.
You will receive your bonus.
The bonus funds are allocated to a separate 'pot' as they have wagering requirements. The bonus can only be used on odds of at least 3. All of the sportsbook bonus terms and conditions are on the 1win sportsbook website.
The 500% bonus is over the first 4 deposits:
1st deposit 200% bonus
2nd deposit 150% bonus
3rd deposit 100% bonus
4th deposit 50% bonus.
30% Cashback Bonus
Every week, 1win sportsbooks users can earn up to 30% of their bet net losses back. Small fry bettors won't benefit a lot from this, however. In order to get 1% cashback, you need to have lost more than $860 in a week! However, the big players can get up to 30% on a cumulative scale depending on how much has been bet and lost.
Any cashback bonus received is only valid for a specified amount of time as per the terms and conditions.
Bonus on an Express
When players place an express bet that includes five or more events, they can receive an additional bonus. The more events included in the express, the better the bonus.
How to Register Into 1win Sportsbook?
Signing up to 1win sportsbook is easy. Here are the steps to go through to register and get the bonus:
1
On the official 1win sportsbook website, click on 'registration'.
2
Complete the short form by entering your personal details including your preferred currency, email address, and mobile number. It's also possible to register using an existing social media account like Facebook or Instagram. The form takes 1 to 2 minutes to complete.
3
Accept the Terms & Conditions.
4
When you're asked for a promo code, enter BETMORE. This code will get you the best possible bonus available.
5
Your account will be open.
When you sign up to 1win, you can make deposits and play straight away. However, in order to withdraw funds, you'll need to verify your account and prove your identity. Here is the verification process in full:
How to Verify Your 1win Canadian Account
Verifying your account proves that you are who you say you are. It also prevents underage people access the betting site and it means that 1win can ensure players only have one account in their name.
You don't need to verify your account upon registration or to make deposits and bet, but you won't be able to withdraw any winnings unless you do so.
Here are the steps you need to take:
Complete all of the personal information details in the account section.
Scan or upload photos of your identification documents and proof of address (ID Card, passport, driver's license, etc.).
Wait for verification to be completed (this will typically take three working days).
You will receive an email when your identity has been verified successfully.
How to Place a Bet at 1win?
Betting couldn't be easier at 1win sportsbook. After you've registered and made your first deposit, you're free to start betting. If you've chosen to receive a bonus, your betting might be restricted to certain types or odds until you've used all of the bonus funds. The terms & conditions will have all of the details for you. There are a few basic steps you need to take in order to place a bet. These are as follows:
1
Log into your account. Either use your username and password or click on the social network logo and then click 'login' (this is if you registered via an existing social network).
2
Ensure you have funds in your account.
3
From the sportsbook page and menu, choose a sport. The best odds will usually be in the live betting section of the sportsbook.
4
Decide how much you want to bet and confirm your payment.
5
When the sports event or match has ended, you'll see if your prediction was correct. If it was, your winnings will automatically be added to your account.
1win Sports Betting Payment Methods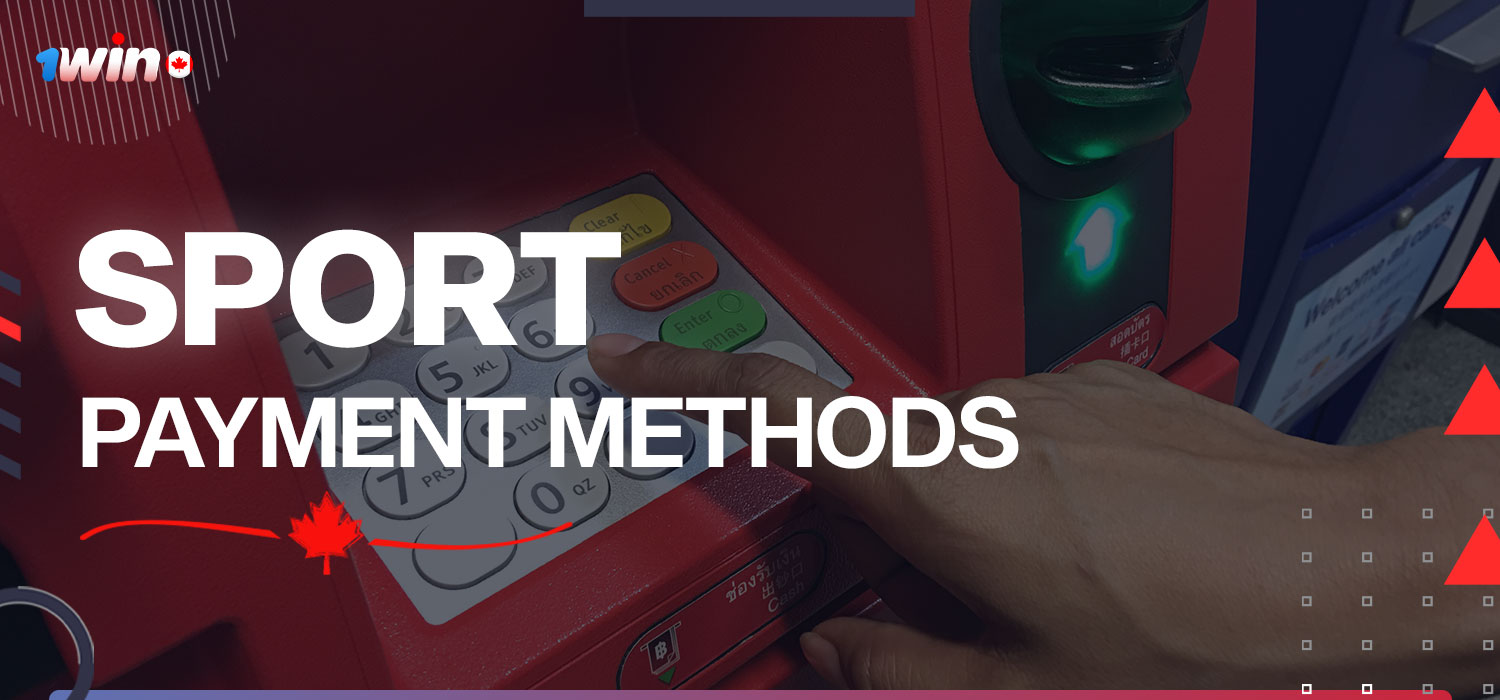 There are lots of payment methods for 1win sportsbook users in Canada.
It is possible to pay with credit cards, debit cards, cryptocurrencies, and e-wallets. Here is a list of all of the methods accepted:
Perfect Money, Mastercard, Visa, GPay Wallet, prepaid e-vouchers, Advcash, UZCard, Payeer, Tether, Neteller, EntroPay, FK Vallet, Skrill, cryptocurrency (Bitcoin, Ethereum, Tron, Tether, USD coin, Binance, Monero, Doge, Bitcoin Cash, Litecoin, Cardano, Zcash, Dash, Neo, Ripple, EOS, Stellar, NEM.Ethereum)
Let's look at the specific payment methods for deposits and withdrawals.
| | |
| --- | --- |
| Deposit methods | Perfect Money, Mastercard, Visa, GPay Wallet, prepaid e-vouchers, Advcash, UZCard, Payeer, Tether, Neteller, Entropay, FK Vallet, Skrill, cryptocurrency (Bitcoin, Ethereum, Tron, Tether, USD coin, Binance, Monero, Doge, Bitcoin Cash, Litecoin, Cardano, Zcash, Dash, Neo, Ripple, EOS, Stellar, NEM.Ethereum) |
| Withdrawal methods | Perfect Money, Mastercard, Visa, GPay Wallet, Advcash, UZCard, Payeer, Tether, Neteller, Entropay, FK Vallet, Skrill, |
Whichever deposit method you use, you have to use the same withdrawal method.
Deposit methods
| Method | Process time |
| --- | --- |
| Mastercard | Instant |
| Visa | Instant |
| Perfect Money | Instant |
| Gpay | Instant |
| Prepaid vouchers | Instant |
| Neteller | Instant |
| Skrill | Instant |
| Advcash | Instant |
| Tether | Instant |
| Payeer | Instant |
| Entropay | Instant |
| Cryptocurrencies (Bitcoin, Ethereum, Tron, Tether, USD coin, Binance, Monero, Doge, Bitcoin Cash, Litecoin, Cardano, Zcash, Dash, Neo, Ripple, EOS, Stellar, NEM. Ethereum) | Instant |
Withdrawal methods
Although all withdrawals are processed on 1win straight away, it depends on how quickly the bank releases the funds to you. The quickest withdrawals are for e-wallet payments. Mastercard and Visa payments usually take up to five business days for the funds to reach your account.
| Method | Process time |
| --- | --- |
| Mastercard | Up to five business days |
| Visa | Up to five business days |
| Perfect Money | Within 24 hours |
| Gpay | Within 24 hours |
| Neteller | Within 24 hours |
| Skrill | Within 24 hours |
| Advcash | Within 24 hours |
| Payeer | Within 24 hours |
| Entropay | Within 24 hours |
Types of Sports in 1win Canada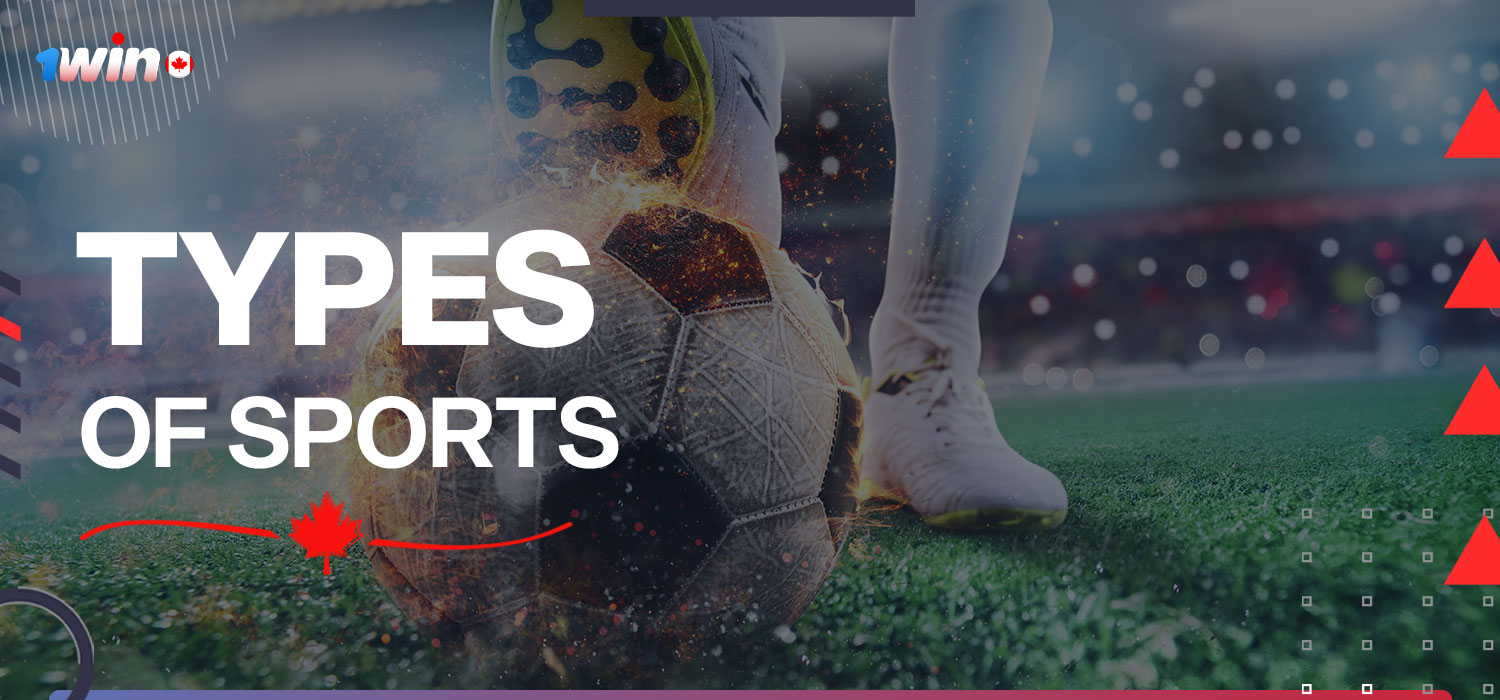 1win Canada has more than forty sports in the sportsbook. It caters to all interests worldwide and so you'll find some interesting inclusions in the sportsbook markets. Here are some of the most popular sports for Canadian betting:
Badminton
Basketball
Biathlon
Cricket
Football
Handball
Hockey
Table tennis
Tennis
Bettors can access the full sports list in the 1win 'line' menu. When selecting a discipline, you'll see a list of matches and odds. When you click on an individual event, you'll be presented with the full list of options.
Generally speaking, football is the 1win sportsbooks primary focus, but you'll see less popular disciplines like darts, futsal, beach volleyball, and Aussie rules too.
Live Betting
As previously mentioned, live betting is where you'll find the best odds – and arguably have the most fun! There are hundreds of live events available to bet on and it's easy to see what is happening right now from the sportsbook live betting homepage.
1win Cybersport
If you've jumped on the cybersport (esports) bandwagon, you'll realize just how huge this market is right now. For anyone new to esports, this simply means a videogame competition where players or teams compete for financial rewards. The prize pools are often worth millions of dollars!
When people use esports for betting, they bet on the gamer or team of gamers that they think will win.
The most popular esports for betting are:
Battlefield
Call of Duty
Counter-strike
Dota 2
FIFA
Heroes of Warcraft.
World of Tanks
Some cybersport tournaments attract millions of views worldwide to watch the best gamers play against one another.
1win Vsport
1win also has a strong vsport (virtual sports) platform. These are sports that are played in real-time but virtually, and it's a relatively new betting concept. You can bet on lots of virtual tournaments including tennis, football, and basketball. Essentially, you're betting on games and events that aren't really happening. The outcome of these events is decided by a true random number generator (TRNG).
You can place bets on these matches through a demo account at first if you're new to vsports and want to get a feel for it. When you're ready to play with real money, it's as easy as traditional betting.
1win Mobile Apps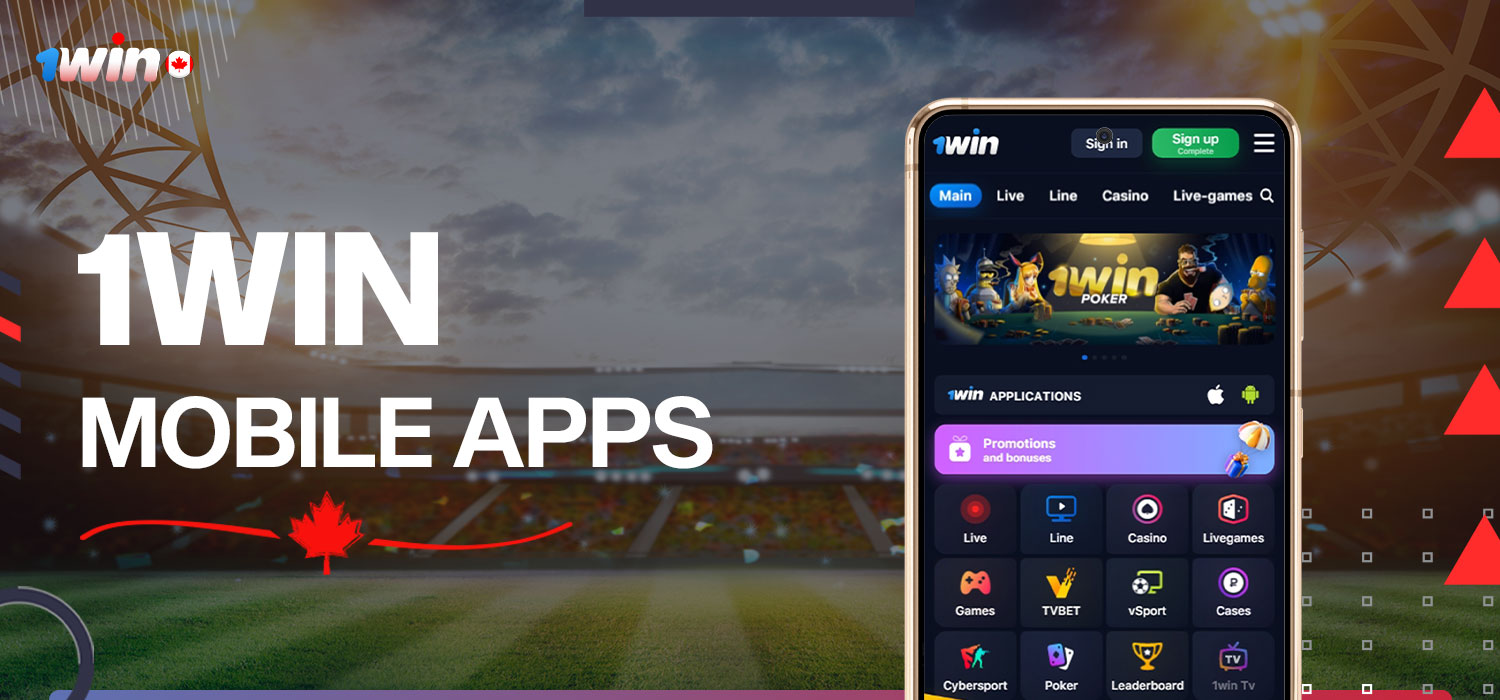 The 1win Canada sportsbook is entirely mobile-optimized. This is all thanks to HTML5 technology. This means that the site is completely accessible from a smartphone without any loss of function. Bettors need not download an app at all, though one is available if they prefer to do so.
If players decide they want an app because they prefer the ease of locating it on their smartphone, this is available to download directly from the 1win website.
There are tabs for each different operating system, including Android, iOS, and Windows.
Android
The Android app is available to download from the 1win website 'applications' tab. You won't find it in the Play Store on your phone, so you'll need to navigate to the 1win sportsbook via your browser.
The download and installation process will take a matter of minutes and won't cost a penny. Here are the steps to take:
Find the installation link on the 1win webpage.
Click on the apk file to run it.
Click 'install' when prompted by the pop-up window.
Log in to 1win with your existing account details.
In order to have the 1win app, your smartphone needs to have the following:
OS 5.0+
1.2 GHz processor
1 GB RAM
100 Mb free space
This is not excessive. If your smartphone can run social media or gaming apps, it will be able to run the 1win app. The 1win app will also update automatically whenever there's a new update to install.
iOS app
iOS users can also download the 1win app quite simply from the 1win website too. Here are the steps to follow:
Use the regular iPhone or iPad safari browser to go to the 1win website.
Select 'share' at the bottom of the web browser.
Click 'add to home screen'.
The app will be installed
Like the Android app, this will only be available directly from the 1win website and not in the App Store.
The app needs the following:
iOS version 8+
RAM 1GB
100Mb of free space
1.2 GHz processor
This will automatically update, when necessary, like the Android app.
Windows
If you also prefer using PC apps rather than your internet browser, the 1win site has a Windows app too.
Again, you need to go to the 1win website and click 'application' then select the appropriate software version for your Windows PC or tablet.
You'll see a pop-up window and you need to click on 'launch.' The app will then be installed and accessible from your desktop.
1win Sports Betting Website Interface & Usability
The 1win website is very user-friendly. It has a dark blue night theme that oozes elegance and doesn't contain any unnecessary information. The website is straightforward and not too busy. In just a few clicks, you're able to bet on your chosen game or sporting event.
What's more, you won't see unnecessary elements like pop-up banners, scrolling banners, or advertising.
Is 1win legal in Canada?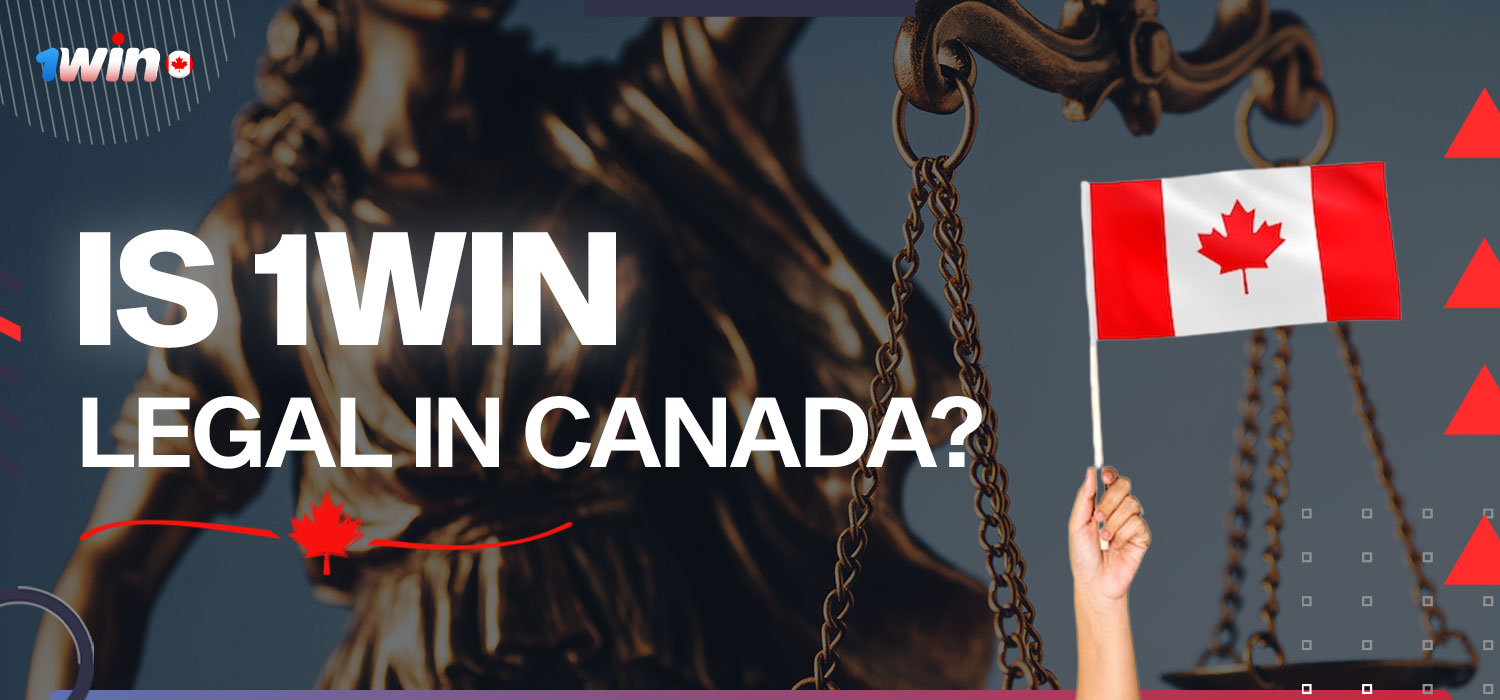 Absolutely! 1win is completely legal in Canada and is one of the most popular sportsbooks in the country. 1win Canadian bettors rate this site highly for its offering and functionality. It is an offshore-licensed casino, which means that all players in Canada can access it no matter their province.
Responsible Gambling
The 1win website is serious about responsible gambling. They claim to consider it their responsibility to protect players from becoming dependent on gambling. If players need to take a break from betting on the site, they can restrict themselves by contacting customers' services, which are available 24/7.
They're also very serious about preventing minors from accessing the site and being able to gamble, which is one reason why they insist on user ID verification for all players.
Customer Service
The customer service at 1win sportsbook is excellent. The site has a very responsive live chat function as well as email support for anyone not requiring an instant answer.
The 1win customer service can support users with all aspects of the sportsbook – from registering, logging in, technical issues, bonuses, wagering requirements, and more. Players can also access the site and the customer service in different languages too.
To contact customer services, you can click on the 'chat' tab on the homepage, which will launch the live chat function, or email [email protected].
FAQ
What are the most popular sports to bet on in Canada?

Canadian bettors most often choose basketball, hockey, baseball, football, tennis, golf, boxing, MMA (UFC), and soccer. Canadians are well-known for being hockey and ice-hockey fans.

Can I place bets in Canadian Dollars?

Yes. Bettors choose their preferred currency when they sign up and one of the options is CAD. Once you've chosen your currency, you can't change it.

Do Canadians have to pay tax on their winnings?

No. Canadians don't pay tax on gambling winnings unless it is a full-time, professional job.

What is the process for ID verification on 1win?

It is a simple process to verify your ID. You can fill in a form and email it to customer services with copies of your ID documents. Alternatively, the customer service representatives will talk you through the entire process on the live chat function. Just make sure you have your ID documents to hand.